EFEM Advancement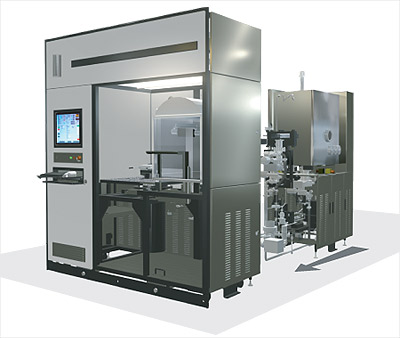 In response to customers' increasing need to apply "front-end automation" to their existing R & D semiconductor equipment, Fala Technologies Inc. has expanded its turnkey product offerings to include custom Equipment Front End Modules (EFEMs). Aimed at applications requiring ultra-clean work cell automation - including satellite-based production, inspection and metrology systems - customized EFEMs best fulfill today's stringent nanoscience requirements.

During the past three years, Fala Technologies Inc. has been collaborating with leading R & D scientists on the development of nanoscience equipment and processes. This has allowed us to develop the in-depth knowledge and experience needed to supply the demand for next-generation design of ultra-clean, automated work cell environments.

As these advances are applied to process equipment, it is essential that they also migrate to the EFEM side of the equation. This is where the product is most vulnerable, as it is exposed to particle generation during atmosphere-to-atmosphere and atmosphere-to-vacuum transfers.

Fala Technologies Inc. specializes in the design, build and systems integration of custom EFEMs in order to address these needs for the R & D semiconductor and laboratory equipment fields.

We provide the expertise needed to evaluate the application, determine the requirements and execute a strategy to remove contamination, eliminate human handling, and improve product yield.



Work Cell

Sub-Class 1 environments with zero dead space

Mirror-finished, monolithic interiors

Ionization, lighting, test ports and fool-proof safety interlocking

High-performance, closed-loop fan filter modules

Hinged or fixed BOLTS-compliant load ports




System

Support for reticles (masks), 200mm & 300mm wafers, and custom materials

Supervisor / slave system control options

Architectural flexibility

Robust operator interface options

GEM/SEC/HSMS Options

Self-contained / integrated Load Lock and supporting vacuum system

Self-contained packaging in support of parent tool automation requirements

Automation follow-through with full parent tool integration (sensors, interlocks, etc.)

Vibration isolation

Customer-preferred sub-system component brand flexibility

Leading-edge technology components

Single-point facilities interface and distribution to all points of use




Support

Enhanced service access and configurability

Extended warrantee / service contracts

Designed for SEMI compliance




The following are examples of Fala custom EFEMs in use at Sematech, Albany:




Product: Coated and uncoated EUV Reticles
Product Interface: Asyst Load Port
Carriers: Single-reticle pods
Robot: Four-axis SCARA robot
End Effector: Active, contacts side surface face only
Work Cell: Sub-Class 1 with zero dead space


Vacuum System:

Integrated Load Lock

24" x 28" x 14" Chamber

Base pressure of 10-6n Torr

Load lock pumping: roughing and turbo-molecular pumps

Load lock gases: Argon purge and Nitrogen pressure control

Chamber pumping: roughing and turbo-molecular pumps

Chamber gases: Argon purge and Nitrogen pressure control

Vacuum stage with 18" of travel

Active reticle chuck riding on the vacuum stage



Product: Coated and uncoated EUV Reticles
Product Interface: Dual Asyst Load Ports
Carriers: Single-reticle pods and Five-reticle cassettes
Robot: Six-axis Staubli robot
End Effector: Passive, for interfacing with multi-reticle cassettes
Work Cell: Sub-Class 1 with zero dead space


Special Features:

Class 1 Mini-environment enclosing metrology tools & isolation table

Product routing to either or both metrology stations

Automated supervisory control of EFEM and metrology tools



Product: Coated and uncoated EUV Reticles
Product Interface: Dual Asyst Load Ports
Carriers: Single-reticle pods and Five-reticle cassettes
Robot: Six-axis Staubli robot
End Effector: Passive, for interfacing with multi-reticle cassettes
Work Cell: Sub-Class 1 with zero dead space


Special Features:

Ability to fill/empty five-position cassette from/to multiple single pods

Ability to perform full mix-and-match shuffling between two five-position cassettes





FALA Technologies Inc.
430 Old Neighborhood Road
Kingston, NY 12401
Tel: 845-336-4000
Fax: 845-336-4030
Toll-Free: 1-888-FALATECH
Email: info@falatech.com