Compared with re-engineered technologies, customer or jointly-developed technologies are easier to supply with consumable components, given that the origin of the technology is known and controlled. FALA works with customers to tailor their base technology to exact specifications while making the customized product cost-effective to replace as it becomes consumed. Two examples are Carbide Punch Assemblies or High Speed Probe Heads.

Carbide Punch Assemblies
FALA worked with IBM to improve the lifespan and durability -- as well as decrease the replacement cost -- of precision ceramic punch technology, used to produce ceramic packaging substrates for advanced chip interconnects in semiconductor manufacturing.

FALA improved the durability of the punch drive heads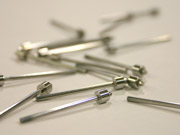 used in the IBM multi-punch machines that make multi-layered circuitry in chip packaging. We created a unique, proprietary electron beam brazing process that attaches hardened steel drive heads precisely to a carbide punch rod without comprising OR COMPROMISING? the drive head's durability. These improvements increased the lifespan and reduced the cost of ownership for IBM's ceramic punching machines.
High Speed Probe Heads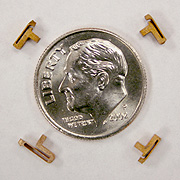 IBM asked FALA to manufacture the microscopic probe heads used for extremely high speed, point-to-point circuit testing in their semiconductor chip wiring process.
The microscopic size of a probe head is too infinitesimal for a human being to inspect and qualify. Plus, any variation in the size of the probe head by even one or two ten-thousands of an inch is unacceptable for precise probe performance. Their minute flexing needs to match the harmonics of the high speed testing tool consistently. Taking these delicate parameters into consideration, FALA developed a micro-machining process, coupled with automated optical inspection, to meet IBM's exacting requirements.