The Benefits of Using FALA's Cleanroom-Grade Ceramic Hybrid Bearings
FALA's aftermarket bearings greatly improve the Cost of Ownership for semiconductor robotic handling systems in several ways:

First, they last up to four times as long as any other bearing on the market.

Second, FALA's use of fully shielded bearings greatly reduces particle contamination and eliminates lubricant ejection, thereby improving product yields.

Third, the bearings can be force-loaded bi-axially, eliminating orientation concerns; thereby making installation simpler and easier. (Improper installation can cause OEM bearings to prematurely fail.)

Fourth, FALA's bearings are designed to handle higher loads and maintain wafer positioning accuracy for longer periods of time, resulting in reduced wafer breakage.

Fifth, FALA is the only company that warranties its bearings for two years.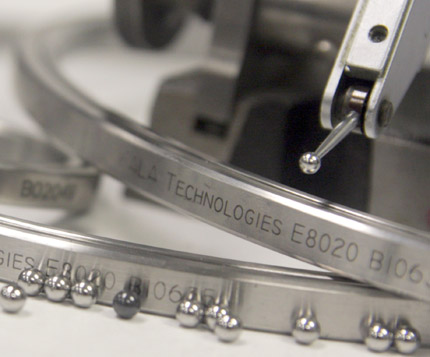 Customized, Cross-Application Kits
To ease maintenance problems for our customers, FALA provides approximately 15 different types of bearing kits, each containing all the replacement components needed to refurbish a vacuum robot handler. Kits include different combinations of Hub, Elbow and Wrist bearings and associated o-rings, screws, compression springs, lock washers, templates and installation information, based upon customer needs. We routinely create new types of kit packages for customers' specific maintenance and business requirements.
The kits work across multiple applications so that customers do not have to buy a different kit for each robotic application. As a result, we simplify our customer's requirements to stock spare parts. It is possible to carry only a few variations of FALA kits to cover many applications.
Based upon numerous customer requests to simplify the installation of robotic bearings during maintenance, FALA now produces pre-assembled bearing packages, making installation easier. Wrist bearings can now come pre-assembled either in robotic Pivot Arms or in complete Wrist housing assemblies.
What makes FALA's Bearings the Best
The centerpiece of all FALA kits is our full complement, double-shielded, 4-point contact Gothic Arch, thin-section, ceramic hybrid bearing. While existing bearings already utilized the thin-section 4-point contact Gothic Arch concept, it was FALA who invented full-complement, double-shielded, ceramic hybrid technology to advance vacuum robotic handling applications in the semiconductor industry.

FALA's full complement bearings are filled with load and spacer balls, which, by design, run more cleanly (less micro-contamination) than other OEM bearing products. Full complement bearings also utilize more bearing balls, which improve bearing performance, since they distribute robotic forces more evenly, withstand greater loads and provide more stable performance long term. Combined, this contributes to better robotic positioning accuracy and reduced wafer breakage.
The full complement design also makes Hub bearing installation in robotic handlers easier. FALA's bearings can be installed in any orientation, unlike OEM bearings, which can come apart if improperly installed.
Double-shielded bearings represent another significant improvement in 4-point Gothic Arch bearing technology. FALA was the first company to shield thin-section bearings for robotic handling applications. Shields cover exposed bearing balls and retain lubricants where they are needed within the bearing. When used with FALA's proprietary SFD3 lubricant, shields improve bearing life and reduce product contamination and outgassing.
As today's semiconductor industry moves toward smaller and smaller chip line circuitry, the control and mitigation of particle contamination becomes increasingly critical. The combination of full complement bearing design, the use of shields and FALA's proprietary SFD3 lubricant drives particle contamination down to an absolute minimum.
FALA is at work developing future product lines to advance robotic handling for next-generation, small-line circuitry semiconductor fabs.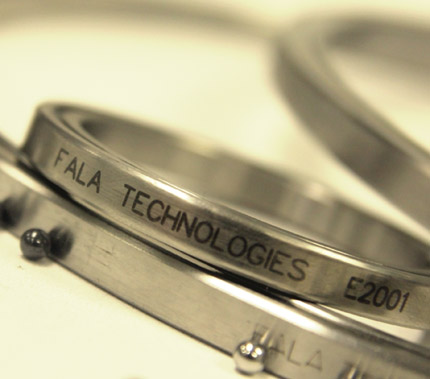 How FALA Got Into The Robotic Bearing Business
FALA evolved into the robotic bearing business by solving a customer problem that other manufacturers were unwilling to address.
While working on a joint development project with IBM to improve deposition shielding in PVD (Physical Vapor Deposition) process tools, IBM asked FALA to solve another critical problem. The process tool's vacuum robotic handling bearings were breaking down every six months, causing costly machine shutdowns, higher particle contamination and lower product yields. IBM was getting no help for this problem from either the OEM or the large bearing manufacturers. IBM turned to FALA for a solution to the bearing problem based on FALA's specialized knowledge of precision motion and positioning in ultra-clean environments.
IBM clearly needed to reduce bearing costs. However, FALA is more interested in partnering with customers or suppliers to advance base technology than in being just a low cost provider. "Any good company can reverse-engineer a part to make it cheaper. The trick is also to make it better." said Frank Falatyn, FALA president and CEO.
FALA approached the problem with a new set of eyes that looked beyond reducing cost and into the improvement of bearing performance and process.
The first significant improvement in bearing technology was our invention of a proprietary manufacturing process to produce 4-point contact Gothic Arch bearings containing a full complement of bearing balls without the use of what is known as a fill groove.
A fill groove interrupts the ball path within the bearing, causing unwanted vibration and particle generation. A full complement bearing means that a combination of load and spacer balls are placed within the bearing groove.
FALA's second significant improvement in 4-point contact Gothic Arch bearing design technology was double shielding, which greatly reduces particle and lubricant ejection from the bearing, thereby improving product yields. In 1999, FALA Technologies became the first bearing manufacturer to shield full complement thin-section bearings for robotic applications.
FALA'S third significant advancement in robotic bearing technology was the use of ceramic hybrid balls within the bearing. Ceramic hybrid technology is cleaner running and longer lasting than standard industry ball bearing technology.
Finally, FALA's design makes bearing installation simpler and easier. Existing bearing products can only be installed from one direction, while FALA's bearings can be installed in any orientation.
Field results by our customers clearly show that FALA's bearings last longer (4X the life of OEM bearings), reduce particle generation and improve robotic positioning accuracy.
IBM was the first semiconductor manufacturer to make use of this advanced bearing technology. Today, FALA sells thousands of bearings…each backed up by a two-year warranty. In fact, FALA is the only bearing manufacturer to warranty our bearings for vacuum robotic applications.
Building upon successful work with our worldwide network of customers, including IBM, Phillips, AMD, Micron, TSMC, National Semiconductor and Motorola, to name just a few, FALA continues to enhance bearing replacement kits for existing 200mm wafer applications and develop new kits for next generation 300mm wafer production.